Edith Bergstrom is a peer of the California light and space artists who emerged in the early '60s. She has shared their investigation into the process of perception while maintaining a highly individual path.

Eschewing the grand gesture, she works with tough-minded austerity to open up the two-dimensional surface for exploration, often using imposing scale as well as manipulated pigment to engage the viewer in a continuing dialogue of seeing.

Since 1974, Bergstrom's subject is exclusively the palm tree. She captures the palm trees' elemental energy as much as their physical appearance and draws the viewer into their hidden forces. With her canvases, she reminds us that nature is in fact the greatest art.

In a sense, she explores the space between realism and abstraction. Her botanical study of the palms is strengthened by her use of traditional methods of painting. She works in watercolor, acrylic and oil.

Palm Patterns #132: By Edith Bergstrom, acrylic on paper, 40x60
Raised in Southern California, Bergstrom has resided in Northern California since 1964. She received her bachelor of arts degree in applied art from Pomona College and a master's degree in painting from Stanford University.
Viewing her palette, one can see the strong influences of Richard Diebenkorn, who was her mentor while she attended Stanford. She met with him weekly for an hour and he would critique her paintings.
She comments, "I felt that Diebenkorn was a kindred spirit. He thought carefully about my work and would offer encouragement to me in my choice of colors."
Bergstrom points out that the Coachella Valley has a stark light that is available in only two other areas of the United States; the southern tip of Texas and the southern tip of Florida. That special light has a profound effect on her paintings.
A Gallery Fine Art has a large selection of Bergstrom's work on display. The gallery is located at 73-956 El Paseo in Palm Desert. 346-8885.
- McKig is a free-lance writer and art expert in Pinyon Crest.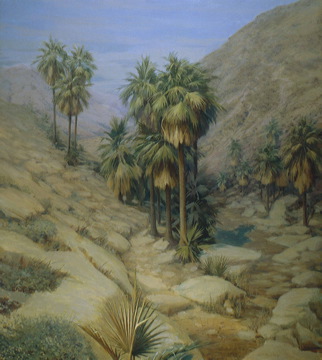 Palm Patterns #160: By Edith Bergstrom, oil on linen, 66x60
She has painted every part of the palm tree. As she says, "At first I concentrated on the trunks. The patterns are very abstract, and one can achieve fascinating results. Later, I moved to the lower branches and leaves, then just the leaves and finally the fruit. I painted dates exclusively for a period of time."
Bergstrom's palm tree paintings have been exhibited widely in national painting competitions since 1975, and she has received awards in more than half of those competitions.
One painting owned by the Achenbach Foundation for Graphic Arts was exhibited in the Palace of the Legion of Honor in San Francisco. Her work also has been included in collections at the Palm Springs Desert Museum, the San Jose Museum of Art, Utah State University and Claremont Graduate School.
Articles on Bergstrom's work have appeared in two national art magazines, and seven books about watercolor have published colored reproductions of her palms with commentaries.
Bergstrom is currently painting full time. She invests a great deal of time in each canvas. Some of them can take as much as 174 hours spread over a four to five-month period of time. The results are beautiful to the eye and intriguing to the mind.